Travel Plan
The Travel Plan aims to support University operations and development; encourage sustainable transport choices for everybody; and continually reduce the negative impacts of travel such as congestion, carbon emissions and air pollution.
Lancaster University's Travel Plan has been recognised as a sector leading strategy that has facilitated and directed significant changes in travel modes for the University's staff, students and visitors. Originally adopted in 2005, the Travel Plan has driven a 24% reduction in carbon emissions from student and staff commuting, primarily through changes in travel modes.
New buses
At least 14 buses service our campus every hour during term-time so it's no surprise they need replacing every once in a while. In 2019, 14 of the Stagecoach double deckers were replaced with low emission buses, fitted with the latest equipment and technologies. A number of incentives and policies are in place to make travel by bus preferable to travel via less environmentally friendly methods such as by car.
The University has a restricted number of parking spaces available to staff. Incentives are in place to allow car users to switch to bus travel as their main method of commuting. Not only does this reduce our carbon emissions, but it also reduces traffic in the local community and is cost effective too.
Cycle Parking
The University has over 1300 dedicated bicycle parking spaces, across more than 80 locations on campus. Most cycle shelters are open access. Secure shelters are generally managed by the department or college in which they are located. A programme of improvements to cycle routes and new bicycle parking facilities are some of the key driving factors towards the existing five year strategy to improve and expand bicycle parking spaces.
More information is available on the Cycling page.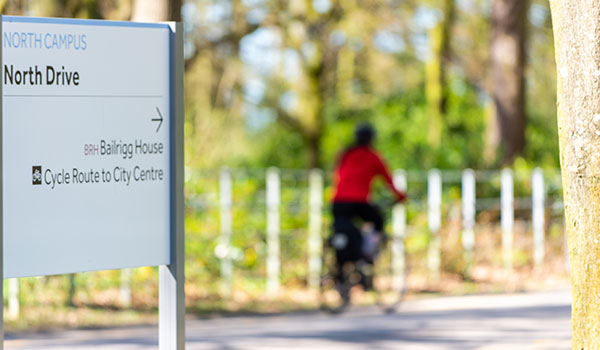 Get involved
Launched in 2015 to engage with students and promote sustainability, Green Lancaster has developed to become a passionate community, committed to tackling the toughest environmental issues of today. The Green Lancaster team host a wide variety of events and initiatives throughout each year to give everyone the chance to get involved.
Green Lancaster