From Politics to Baking!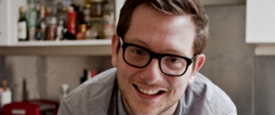 Even Great British Bake Off winner Edd Kimber is forced to admit that his student cooking achievements were every bit as bad as that of his friends' - plates and plates of fish fingers.
But the shy young man who went on to become a nationally-known baker and writer of cook books, is clear that he owes his career to the many hours he spent in the college kitchens during his student years at Lancaster- not cooking, but building up his self-confidence.
"Lancaster university started off the process," says Edd, "And appearing on the Great British Bake Off in 2010 kicked my shyness out of me completely."
He remembers arriving at Lancaster as a 'constantly-worried' and uncertain teenager, who had no real idea of what he wanted to do with his life. In fact he spent his first two days hiding in his room at County College, trying to pluck up the courage to interact with the other students.
Once he took the plunge to walk into his nearest kitchen, he found himself welcomed into a student life that transformed him. He discovered that this hub shared by 28 others was where all the chatting and joking happened - whether bog-eyed over breakfast time, at early evening gatherings before a night out or putting away food after a group taxi trip to stock up on the cheapest-possible supplies at the supermarket.
In the relative protection of a small campus university, the gay teenager from a Bradford comprehensive gained the confidence to come out to himself and his family, to make many lasting friends and to slim down from 20 to 10 stone. "In the middle of a bigger city, a person like me would have got emotionally lost. A smaller, friendly city like Lancaster was a really good fit," he stresses.
He feels lucky to have got in there. He had not gained the exact grades, but Lancaster gave him a place. He had applied to do history, but disliked it at undergraduate level. Thanks to the three-subject system in the first year, he was able to take American Studies and Politics. The latter gave him the greatest satisfaction, particularly the course in politics and gender in his final year.
Away from lectures he describes several 'phases' in which he dabbled in university politics, was a member of the LGBT society and enjoyed his first taste of the media as a roving reporter for the university radio station (in his first year).
Edd left the university with a degree, no idea what to do next, but a willingness to find out. Cooking was nowhere on the horizon. Having spent a few months working for his antique dealer parents in Yorkshire, he took a job in the litigation department of a bank - which is where the cooking comes in.
The job, challenging people in financial difficulties, made him so unhappy that he needed some way to relax. Memories of the joy of baking with his grandma and his mother as a boy, prompted him to start experimenting with cakes, biscuits and his 'Nana's gingerbread'. He lived for the evening, when he could try out new recipes, the results of which were praised by his friends.
The spark was lit. He applied to catering school and, even when he was turned down, refused to give up the idea of a baking career. Instead he bought the culinary course books and began working through them from cover to cover - every night after work until 1am producing a new recipe. A friend persuaded him to apply for the Great British Bake Off and no one was more surprised than Edd when he was not only accepted, but moved ahead through the rounds to become the 2010 winner, enjoying every stage and being in the public eye.
This changed his life. After his victory, he was invited to do invaluable work experience in Raymond Blanc's Le Manoir aux Quat'Saisons. Since then he has set up his own company as The Boy Who Bakes, has written (at the time of writing) two books on baking, has appeared on various TV shows and at food festivals and runs regular courses for aspiring bakers.
Edd was also one of five celebrity bakers invited by Fortnum and Mason to be featured in a special event in the world-famous store, alongside Paul Hollywood and Mark Hix. He now has invitations to appear at events all over the world.
Now settled in London, with his partner, he says: "I'm in a job I really love. The academic side of what I learned at Lancaster may not really have a relevance to what I do now, but my time at university taught me where I really did fit."