Annual Review
Our rapid and sustained success has helped position Lancaster as one of the UK's best universities and during 2018 we have extended our reach and influence through exceptional performance.
Vice Chancellor's Review
It is a privilege to be the Vice-Chancellor of a university that is so solidly rooted in academic and collegiate values.
Our strengths in research and teaching combine with our vibrant, diverse community, international partner campuses and research collaborations to position Lancaster as a truly distinctive university. Our students continue to be at the heart of everything we do. Some of our greatest strengths include overall student satisfaction and employability. It was another year when the student responses to the National Student Satisfaction survey again placed us in the top 10 for overal satisfaction.
Our strategy is to become truly globally significant – a leader in higher education and a university which engages locally and internationally to address the issues that concern us as a society. Over the past 12 months we have extended our reach and influence as an economic anchor and driver of innovation. The UA92 project continues to develop in Trafford with a full time Principal now appointed in Professor Craig Gaskell.
We continue to explore new opportunities to extend our teaching and research links around the world - Sunway University in Malaysia, Lancaster University College with Beijing Jiaotong University (BJTU) China; Lancaster University Ghana and our latest venture that will create Lancaster's first campus in mainland Europe in Leipzig, Germany together with leading education provider Navitas.
Last year we announced a major investment that will help improve advances in health care and significantly contribute to the regional economy. Dr Sherry Kothari has has joined us as Director of this initiative where health experts will work collaboratively with businesses and the health sector to tackle the biggest challenge in healthcare today - helping people to live as long and as healthily as possible.
I'm also pleased to welcome new colleagues to Lancaster's leadership team - Professor Dame Sue Black has taken the newly created post of Pro-Vice Chancellor for Engagement, and Professor Jo Rycroft-Malone will join Lancaster as Dean of Faculty of Health and Medicine in 2019.
We are still facing the uncertainty of Brexit and the Augar Review what these will mean for Lancaster and the UK higher education system as a whole. I continue to assure all our current and future students and our staff – whatever their background – that Lancaster is a welcoming community that values its international diversity, and this will not change.
Professor Mark E. Smith
Vice-Chancellor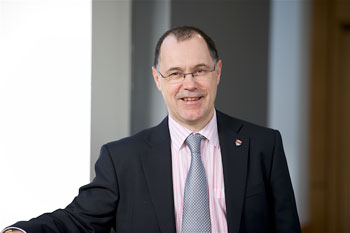 League table success
Out of over 120 UK Universities, we are consistently in the top ten in all three national leagues tables and have maintained our 6th place position in The Times and The Sunday Times Good University Guide 2019.
Lancaster rose four places to 131st out of 1,011 universities in the QS World University Rankings 2019, putting us in their top 13%.
We're 146th in the Times Higher Education World University Rankings 2019, making Lancaster 19th out of the 98 UK universities included in the table.
Lancaster University performs more strongly than most Russell Group universities on most objective measures of performance. We outrank the majority of Russell Group institutions in the three major UK league tables.
12 Months of Outstanding Achievements
Lancaster's success is due to its strategy of continuous improvement. We foster a culture of prioritising the student experience and stimulating teaching with world class research. We strive to maintain our strong record with significant investment into staff, facilities and our vibrant campus
The 2018 National Student Survey reveals that 88% of Lancaster University students are satisfied overall - compared with a national average of 83 per cent. This puts Lancaster in the top 10 of UK universities.
The Times and Sunday Times League Table 2019 has ranked Lancaster third in the UK for graduate employment prospects. Lancaster is also the highest ranked university in the North.
Lancaster will create its first campus in mainland Europe in Leipzig, Germany. As part of its first phase of development, the Leipzig campus will offer four Lancaster accredited Bachelor of Science programmes taught by the University, and a University accredited foundation programme operated by Education provider Navitas.
Lancaster Medical School is to provide 60 more places as part of the biggest ever expansion of the NHS medical workforce across the UK.
This will bring the total number of available places at Lancaster for future doctors to 125 for 2019 entry.
The Health Innovation Campus is on track to meet its ambitious target of engaging with 300 Lancashire SMEs by 2020. The £44M initiative will bring together businesses with researchers and health providers to work together on solving significant health problems.
A new and ambitious relationship between Lancaster University and the BBC Philharmonic will encompass an annual concert within the Lancaster Arts classical programme as well as research partnerships between academics and orchestral musicians.
World Class Research
The 2014 Research Excellence Framework (REF) confirmed Lancaster as a world-leading research university and the only one of the eight most research intensive universities in the North of England to have had funding increased because of the quality and volume of its research. Lancaster is ranked 20th overall for impact, meaning research which has particular reach and significance.
Research With Impact
Driven by research and learning, our university brings together experts from different backgrounds to tackle global problems that impact lives.
Highlights of the Year
Our community is a source of new thinking and practice that improves communities, lives and the economy
Prince Charles has presented Professor Louise Heathwaite with her CBE at Buckingham Palace.
Professor Heathwaite was given the honour 'for services to scientific research and scientific advice to government'.
Inspired by a NASA rover, two Lancaster University graduates have claimed the prestigious International James Dyson Award with their design for a wind turbine for urban areas.
Studying International Innovation MSc together at Lancaster University, Nicolas Orellana, from Chile, and Yaseen Noorani, from Kenya, set out to tackle the problem of generating energy from urban winds.
Paul Muldoon, Lancaster University's Distinguished Visiting Professor of Poetry, received The Queen's Gold Medal for Poetry.
Investing in the future
We are committed to investing in the future of our campus in order to provide world-class facilities for our staff and students. We are always improving, aware that being the best means a process of continual renewal.