Annual Review
Our rapid and sustained success has helped position Lancaster as one of the UK's best universities and during 2019 we have extended our reach and influence through exceptional performance.
Vice-Chancellor's review
Lancaster is a University solidly rooted in academic and collegiate values, and it has been a privilege to serve as the interim Vice-Chancellor.
Our strengths in research and teaching combine with our vibrant, diverse community, international partner campuses and research collaborations to position Lancaster as a truly distinctive university. Our students continue to be at the heart of everything we do. Some of our greatest strengths include our student experience and employability reflected in The Times and Sunday Times Good University Guide 2019 ranking Lancaster 3rd in the UK for graduate-level employment with 89% of Lancaster students going into professional work or further education after graduation.
Our strategy is to become truly globally significant – a leader in higher education and a university which engages locally and internationally to address the issues that concern us as a society. Over the past 12 months we have extended our reach and influence as an economic and civic anchor with renewed focus on and commitment to our region. Eden Project North in Morecambe is a tremendously exciting project for our local area and the University's partnership with Eden plc will explore special projects in health, education, research, knowledge exchange, sustainability and the environment, engagement and outreach to enhance its impact.
We continue to explore new opportunities to extend our teaching and research links around the world and this year, Lancaster's first campus in mainland Europe in Leipzig, Germany accepted its inaugural cohort of students. The Health Innovation Campus officially opens in 2020 - a major investment that will help improve advances in health care and significantly contribute to the regional economy.
We are still facing the uncertainty of Brexit and the recommendations of the Augar Review and what these will mean for Lancaster and the UK higher education system as a whole. There are many challenges for us as a community, not least students evaluating the merits of going to university. We will need to re-evaluate every aspect of our activities while holding true to our core values of scholarly excellence, inclusivity and diversity.
Lancaster will welcome its new Vice-Chancellor Professor Andy Schofield in May and I look forward to Lancaster's continued success.
Professor Steve Bradley

Interim Vice-Chancellor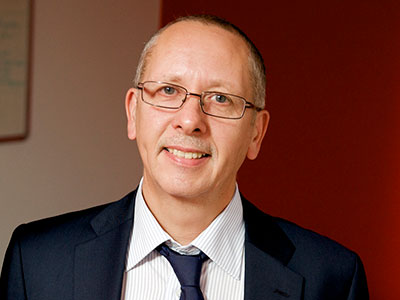 International success
Lancaster University was named International University of the Year by The Times and The Sunday Times Good University Guide 2020.
From more than 120 UK Universities, we are consistently ranked in the top ten in all three national leagues tables and this year received our highest ever ranking of 7th in the Complete University Guide 2020.
This year we also celebrated being ranked 7th for teaching excellence in Europe in the Times Higher Education Europe Teaching Rankings 2019. This is the first international university ranking focused entirely on teaching and learning.
Lancaster has also risen three places to rank 128 in the QS World University Rankings 2020.
We're 139th in the Times Higher Education World University Rankings 2020, making us 18th out of the 100 UK universities included in the table.
Lancaster University outperforms most Russell Group universities on most objective measures. We outrank the majority of Russell Group institutions in the three major UK league tables.
12 months of outstanding achievements
Lancaster University attributes its continuing success to a strategy of continuous improvement. We prioritise the student experience and stimulating teaching, alongside world class research. Our strong performance is underpinned by ongoing investments in staff, facilities and our vibrant campus - as well as our valued community links within our region.
Five Lancaster researchers were listed among world's most influential. The Web of Science Group list identifies academics who produced papers ranked in the top 1% by citations for their field and year of publication, demonstrating significant influence among peers. They are: Prof Nick Graham, Prof Steve Long, Dr Leonid Ponomarenko, Prof Mariana Rufino and Prof Mohamed Kheireddine.
Lancaster University launches new architecture courses. The BA (Hons) Architecture programme aims to be one of the UK's leading courses for aspiring architects and uses design-led research based on the future of architectural practice addressing global issues including climate change, work force automation, data security and the aging population.
Lancaster University Management School recognised among best in world. Accreditation from leading teaching and management organisations puts it among the top business schools from across the globe.
Beyond Imagination launched at Lancaster University. This radical £13.2m research project will explore and demonstrate how cutting-edge design research can create a healthier, more prosperous and sustainable world.
Lancaster University and the National Heritage Memorial Fund (NHMF) announced the purchase of the Whitehouse Ruskin Collection. The move secured an unparalleled collection of works by John Ruskin (1819–1900), the epoch-defining critic, artist, environmentalist and social thinker.
Lancaster joined £9m project to tackle health inequality across the region. We are part of the pioneering North West Coast Applied Research Collaboration (ARC)between universities, NHS, local government and third sector partners, at the forefront of a new government initiative to tackle disparities around health and care.
Classes began at UA92. University Academy 92 (UA92) is a different higher education experience, developed by Lancaster University and the Class of 92 with industry-focused degree and personal development programmes beyond the traditional academic route.
World class research
The most recent Research Excellence Framework (REF) 2014 confirmed Lancaster as world-leading, and the only one of the eight most research-intensive institutions in the North of England to have had funding increased because of the quality and volume of its research. Lancaster is ranked 20th overall for impact, meaning research which has particular reach and significance.
Highlights of the Year
Our academic community identifies problems and develops new systems and practices which improve communities, lives and the economy.
Lancaster announced a new campus in Leipzig, Germany. Working with leading education provider, Navitas, the ambitious project will create Lancaster's first campus in mainland Europe and offer opportunities for ambitious students across the region.
Honorary degree for Hollywood's Andy. Renowned actor, director and producer Andy Serkis was awarded an honorary degree by Lancaster University.
Lancaster University Management School Professor, Sue Cox, received the Lifetime Achievement Award from the British Academy of Management. LUMS Dean, Professor Angus Laing, became a Companion of the British Academy of Management in recognition of his outstanding contribution to the field of management.
National teaching excellence award for Lancaster anatomist, Professor Adam Taylor. Professor Taylor, of Lancaster Medical School, has been awarded a National Teaching Fellowship.
Lancaster Professor Nigel Paul commended by United Nations. Professor Paul received an award in recognition of his "extraordinary contribution to the Montreal Protocol", which is working to heal the hole in the ozone layer and reduce global warming.
Faculty of Science and Technology Dean, Professor Peter Atkinson, named among leading Welsh academics. Professor Atkinson has been elected to the Learned Society of Wales in recognition of his achievements.
Lancaster sociologist Professor Elizabeth Shove was made a Fellow of The British Academy. Professor Christina Hicks, from Lancaster Environment Centre (LEC), was awarded the Philip Leverhulme Prize for emerging academics for her work in food and nutrition security from fisheries.
Lancaster researcher Professor Rebecca Willis was asked to play a leading role in the UK Climate Assembly by identifying various experts to give evidence.
Engaging with our communities
By taking an integral and valued civic role as an anchor institution in our region, Lancaster University instils a sense of profound community pride in its staff and students.