The Joining 4.0 Innovation Centre
The Joining 4.0 Innovation Centre (J4IC) is a strategic partnership between Lancaster University and TWI which was established in April 2017. The aim of the Centre is to develop a comprehensive research capability focused on the digitalisation of joining and associated manufacturing technologies.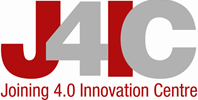 J4IC focuses on joining technologies in the context of industry 4.0, a term used to describe the fourth industrial revolution. The Centre draws on, and integrates, Lancaster's existing research strengths within engineering, data science and computing with TWI's world-leading knowhow in joining technologies. This will enable the creation and development of transformative manufacturing capabilities that can be embedded for the benefit of industry.
Objectives
Be world-leading and industrially relevant in the research and development of digital manufacturing capabilities based on advanced joining and associated technologies
Create a successful collaborative environment between higher education institution and research and technology organisation (HEI-RTO-Industry), with substantial research, technology impact and adoption by industry
Establish an excellent research environment underpinned by MSc / PhD researchers and academic staff embedded by industry
Secure a portfolio of research funding from public funding bodies
Core Research Areas
Digitalised manufacturing capabilities based on advanced joining technologies
Underpinned by expert joining knowhow, data-centric engineering, software platforms, cloud computing, advanced systems connectivity, robotics and communications solutions The FSWBot project
FSWBot aims to create a robotic system, integrating several technologies including friction stir welding (FSW), ultrasonic non-destructive testing (NDT), milling and patch deployment, that can be deployed to conduct repairs on subsea pipelines while they are operational.
FSWBot project page