Why I Moved 223 Miles From Home
by Maria Clark
Hi, I'm Maria and I am studying English Literature, Creative Writing and Practice at Lancaster. As a new student, I'm going to give you an honest account of my first term as it occurs. Everybody chooses their university for different reasons, but I'm going to share why Lancaster was my first choice.
223 miles, or 4h17 minutes by car (if Google Maps can be trusted). Lancaster isn't exactly close to my home, but, sitting here, having started my first year, I can't imagine being anywhere else. There are many reasons as to why the university suits me, and why I was willing to sit that long in a car, but I'll start with a few: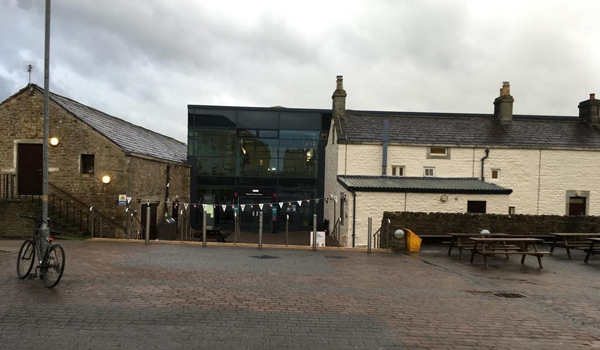 The collegiate system 
I didn't know that Lancaster had a collegiate system before I applied, but it's one of the most unique aspects of the university. Having different colleges at a university helps new students to settle in faster and gives them a support system, both within their college and the whole university itself.
All the colleges have different attributes and ethos – though I have to admit that my decision to choose Cartmel was largely swayed by Barker House Farm! – which means that students can apply for the ones they feel best represent them, and meet other students like them.
The eco-friendly campus (including the farm!)
For me, Lancaster's focus on being environmentally conscious and sustainable is really important. As well as having a beautiful green campus, surrounded by countryside, there are many initiatives and programmes designed to make the university as sustainable as possible, including:
The use of a wind turbine, CHP and biomass boiler in energy production
Sustainable accommodation buildings
Using mainly public transport, cycling and walking to reduce carbon emissions
Increased recycling and reduced waste
Initiatives such as Green Lancaster, encouraging student involvement in being sustainable (such as volunteering at the EcoHub)
Lonsdale College

The Great Hall

The Eco hub
The Careers Service
With Lancaster being 2nd in the UK for graduate employability (Guardian University League Tables 2020), it's safe to say that the Careers Service is an incredible addition to the university, providing support for students with careers fairs, programmes, work experience and internships. The service runs courses to enhance employability and workshops designed for improving CVs and cover letters, helping students to find part-time jobs and eventually full-time employment.
I'm really looking forward to using some of the services on offer and would recommend looking at the learning pages upon the careers website for useful advice regarding CVs, interviews and other skills that are needed in the working world, regardless of your status at Lancaster.
The location – why Lancaster itself?
Particularly for a home person like me, Lancaster is very far away, but the beauty of the city is worth it. Although the university is campus-based, there are regular transport links to the main city centre and a walk, taking around 45 minutes (it's not too far, really). Lancaster is not only a historical centre and an English Heritage City - see Lancaster Castle - but it is a lovely town to explore. You can wander along the canal and the River Lune, visiting the shops in the main town centre. The train station has access to destinations up and down the country – making it very easy for journeys home!
Summer and winter in the city – Lancaster with Christmas lights is incredibly beautiful
Lancaster Castle

Christmas lights in the city

Lancaster city museum
No matter how far you need to travel, Lancaster University and its surroundings offers something for everyone. Although university choice should be focused primarily upon the course, I chose Lancaster with the knowledge that I would be in a safe, friendly environment that will support me throughout my degree and beyond.
I'm very excited about the coming years – even if it means being so far away from home!