The Big Move: Student Life in Lancaster's Off-Campus Accommodation
By Siti Zahra
After living on the university's halls for my first academic year, I wanted to experience off-campus accommodation. I was house hunting for the first time and I remember feeling overwhelmed and pressured with all the questions surrounding what the perfect accommodation in Lancaster for me would be like. Should it be near campus so I that I could walk to lectures or near a bus stop in the middle of town? Am I going to live in an apartment alone or share a house with other students? Should I even be looking for a place in town or would on-campus accommodation be better? All I knew was that where I decided to live would impact my studies and social life – so it's worth dedicating the time, effort and research into exploring the variety of accommodation that Lancaster has to offer (especially since it might be your biggest expense!).
Here, I have interviewed five Lancaster students living in different types of accommodation ranging from houses to apartments, and en suite student accommodation. I asked them the pros and cons of their place, how they have personalised their space, and what advice they would give to prospective or on-campus students who are interested in living off-campus.
I hope that sharing their experiences will give you valuable insight into Lancaster as a town and as a community. However, most importantly, I hope that their stories will give you a better idea of what to look out for when searching for a place to call home during your stay in Lancaster.
Without further ado let's get down to the nitty-gritty of finding a place and living off-campus in Lancaster.
Jay's 8-bedroom house on Dale Street
Practical ways to decorate your house and exploring your location.
So, tell me a little bit about Dale Street and why you chose this house.
We chose to live in a big house because we thought it felt more like family and it allowed us to have a bigger property, which means there is more communal space and there is always someone to meet up with at any time of the day — and that's very important in university because after all the stuff during the day you'd want to come back have someone to talk to. I also like that it is near Williamson Park, a 20-minute walk, so there's a lot of trees and nature I can look at, and also because it is near town at the same time so I don't have to travel very far if I need to buy anything from the city centre. One thing that can be improved, though, is bin collection — it's very difficult when you live in a house with a lot of people there's a lot of bin bags.
How did you decorate your room?
The way I choose things to put in my bedroom are things I really enjoy to look at, even if it's just an ashtray. So, I try to make sure that every corner or wall in my room or every inch of my room, I can look at and is pleasant and nice to look at. That means a lot when you're in your room because you're always looking around in your room and you always want something pleasing to be in front of you. So, I bought a lot of plants…a lot of living, sort of, creatures in the house makes it feel a bit more mine… I also have a light on pretty much in every single flat surface and having different lights means there's a variety for what you can do with your room… it can make all the difference in social settings.
Where did you buy these things?
I bought the plants in IKEA and TK Maxx. The best quality for the cheapest price. I'm not just buying cheap things that I'm not going to enjoy. Everything I own here are things I know I can own after university and take back to my house later on. I'm not just buying something to have here and get rid of, you know. It's very easy and common to find the cheapest things that get you by for three years and then dump them. But I prefer to get things that I can always have because it means now I live in a nice home and I don't waste money. And if I spend money it'll be on something that's worth it. Don't forget about charity shops too!
Jay's advice for living off-campus:
Make sure you get to enjoy that city that you're moving into. Look at the location around you because that's what's going to be available for you to do every single day – where you can go on walks, how far away are you from town or nature.
Buy a little key holder, somewhere where you can keep your keys like a little bowl so that the first thing you can do when you return to your flat is just *clink* drop the keys. You can also keep your change there. Spend a bit of many at the start on a nice rug or mat in your room because it's gonna make all the difference, it's gonna make you feel at home and it feels so much nicer in a room when there's a rug in it (don't accept the fact that you have to live this oversimplified university life).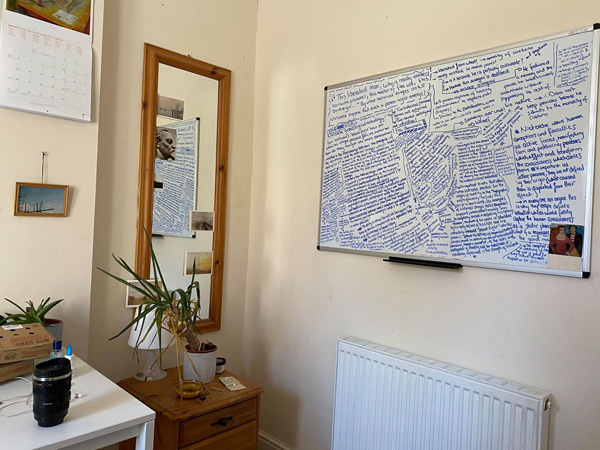 Joel's 4-bedroom house on Portland Street
Choosing landlords, housemates, and when to find your house.
So, tell me a little bit about your place.
My house is a medium-sized house on Portland street…a basic student house just outside town. It's the usual structure where the downstairs second living room is converted to a bedroom, which is the one that I have as I'm living on the ground floor, with a nice little garden as well. There is also a canal nearby where we can go on walks so that's nice.
What were you looking for in a house?
Initially, I wanted to live with a large group of eight to ten guys, but we couldn't find that so we had to split into two fours. Now, I live with three other guys in a four-bedroom house. So, when you're trying to find a house in Lancaster, you've got to be very considerate of how in demand the amount of people looking to live in the same house is available, because 8-person houses in Lancaster are very rare. It was important that the price matched and we have equal size rooms, where we all could've said that we are happy in the house no matter what room we got.
Why did you choose this house?
We chose this house because it's got a nice mix of having a garden and a nice living area. Whereas last year was the opposite, we lived above a shop and we didn't have a garden because it was right at the centre of town. But that was really nice in its own way because in second year we were going out more often and it's more suitable for that. But for third year, it's a lot more chill — we can have the garden and chill and I guess it's the perfect tradeoff.
I also feel like we have a better experience with the landlord because it's a family house. Last year, our landlord would be in the shop below us being really angry because we were disturbing his customers, allegedly, just by walking about too heavily-footed around the house and being a little bit noisy. But, this year, we are more respected as tenants because we're just given our own place and the landlord actually comes and fixes any problems we have with the house. It's good to have a nice professional relationship with your landlord. If you find a landlord that is rational who will just do work with you to try embody both interests and have a friendly, mutual relationship, that's the better option.
What's the difference living on-campus first year and off-campus since then?
First year I think is a time to be social – constantly hanging out with people, meeting new people and trying new things because of campus activities and socials with societies – and you'll always be there and present for everything. Especially in the summer term, with Roses, it's really just amazing because you can watch all these sports events with cider.
So, I do think that campus is really great for first year. But in second year, when you do want to wind down a bit and focus more on yourself rather than on your introduction to university, I think it's better to live in town.
Joel's advice for living off-campus:
I would say you've got to be smart with houses, make sure you're not picking a house too far out from town even though they might be £80 a week (£10 less than the usual price) – we've looked at some of these houses but they're very distant and you might be really socially isolated with only your housemates.
Ultimately, the most important thing is thinking about who you are going to live with and to balance the pressure of finding a house, but also the pressure of you're going to live with these people for a whole year. I've found that in freshers, it's a lot of pressure to pick a house for second year with people you're not necessarily close with but are friends with because of the 'freshers' excitement.' But, you've got to balance making sure you've chosen the right people because they are going to be the ones you hang out with 24/7 at off-peak times and when you're revising – you don't want to be stuck in a house with someone you don't like. You need to find people with similar interests and that you have real connections with. Be very evaluative with who you are going to live with and make sure you've got a strong friendship with mutual respect. So, if there's an issue, you can be open with them. You can work as a team and still live as a family together.
Try testing your relationship before getting a house together. Make sure their hygiene and the way they treat the house aligns with yours. Some people might be able to trick you in the first year by being clean in student accommodation's shared kitchen but they might not do the same with your house.
I'm also going to suggest to try find a house before November or December. We did it as late January or February and we've just about got a good house, but there was none other left.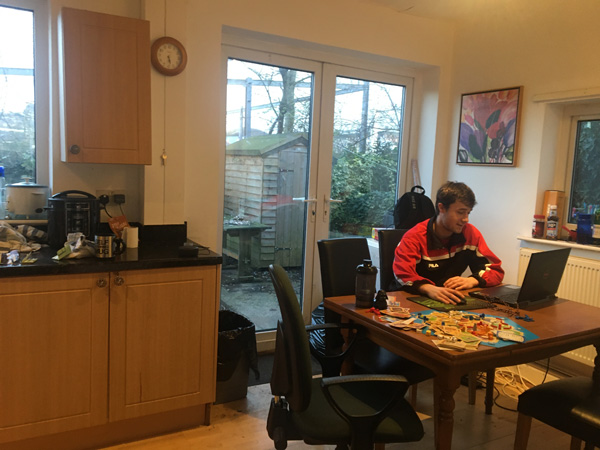 Mergen's student accommodation on Damside Street
Why Damside?
Why did you decide on student accommodation as opposed to a house off-campus?
I didn't choose this place to live together with my friends. In fact, I preferred to live on my own so I could focus on my university work. Besides, there are only single rooms in Damside. I chose this place because the building is new, looks nice, and is well maintained. Also, the rooms are good: en suite bathroom, bright paint, modern furniture. In my room, there is a TV, a kettle, a microwave and a small fridge with a freezer inside. There are four types of rooms in Damside and I chose the Studio X. The reason I chose Studio X is because I decided to pay the total sum in advance. This way I was eligible for a 5% discount. This made the difference in price between a Studio and a Studio X significantly smaller and I was able to get a better room. The other rooms are a bit more expensive than necessary.
Was it a difficult process to book a room?
It wasn't a difficult process since there weren't many rooms left. We exchanged contact details and when the time came I simply printed out the contract, filled it in, scanned it and sent it back. I have to note back then I wasn't shown the exact room I am now staying at.
Pros Cons
The rooms and the buildings look nice and they're clean, because it's modern.
There is a sink and an en-suite bathroom.
You are given a fridge, freezer, microwave, kettle to use in the room.
Free access to a small gym.
You are also given a locker and additional fridge and freezer space in the kitchen.
The location is 10 metres away from the bus station, close to Sainsbury's, and 2 minutes away from the high street.
There is an elevator, no need for stairs.
We have a nice communal area.
The kitchen is shared, so it can get messy (but the cleaners do a surprisingly good job).
Sometimes it is hard to secure a hoover, which are also shared. There are only 6.
There are only 2 washing machines and 2 dryers. Yet, conjunctions are not often.
It may take between 25-45 minutes to get to the University depending on traffic.
The accommodation is quite expensive.
What would a typical hang out with friends look like in the communal area and would you meet other Lancaster students there?
There are occasional parties in the communal area and people seem to enjoy them. There are built-in speakers which you can connect to. There is also a quieter area where you can play table games or cards. On top of that there is a kitchen where you can cook and dine with friends. All-in-all, a very good place to have people over.
How would you compare living in Damside and the student accommodation on campus?
Both experiences are good but different. It depends on your objectives. Living on campus is fun and helps you avoid wasting time on bus. Living in town feels a lot more independent and helps you save money (although that is debatable but still). Both options worth a try.
Mergen's advice for living off-campus:
For returning students I advise attending the accommodation fairs they hold on campus during the academic year in order to secure accommodation as quick as possible.
Bear in mind that living off-campus would require daily bus trips to the University. I would suggest getting a student bus pass, which you can get in the Students' Union, even though it is expensive – but campus shop prices are higher than grocery shops in town (so you could end up saving more in the long run). I got the bus pass at the bus station, however, there is also an option to order it online.
If you decide to live in Damside, you can get a 5% discount by paying the whole sum up front as oppose to term instalments. This way it becomes cheaper to consider a better studio out of the available four options.
Lastly, get a lava lamp! You don't pay for electricity (all bills are included).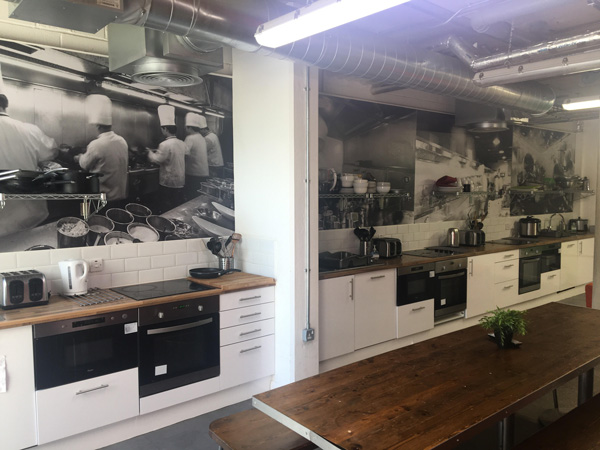 Ana's 4-bedroom house on Wingate Saul Road
Finding a Pet-Friendly Accommodation
Why did you choose to live off-campus your entire time in university?
The main reason why I chose to live off-campus and in here is because of Dobby, my rabbit. When I moved to Lancaster, my parents were considering moving somewhere else in the UK. I was well aware that they might not keep Dobby and I really wanted him to stay in the family. So, if I could find a place where I could take Dobby with me, I would. Having Dobby with me right now…really helps with my mental health. He has been someone I can spend my time with and I'm really happy I get to keep him. I'd be far more stressed out and anxious if I didn't have Dobby with me.
Was it a difficult process finding a pet-friendly place?
It wasn't that difficult at all. I didn't even aim to find a house but I was on SpareRoom, which is a pretty known website to find houses, and I created a profile stating that I was looking for a room in Lancaster and I wanted to have a pet with me. So, I got contacted by my landlady saying that 'you know, I am very happy for you to have your rabbit if you want to.' It's a quiet pet – not a dog or a cat that might be annoying for other people living in the house – so my landlady was absolutely fine if I wanted to have a pet.
In the end, I didn't choose my flatmates because I rented a room not a house – there's a bit of a difference in the way that I have a contract just for my room. I get along with my flatmates and some of them I've lived with for a while now, but I didn't get to choose who my flatmates are. We also have a really good landlord that fixes everything in reasonable time.
Anything you would change or do differently?
I quite like my house. The only thing I would like is have a beer fridge freezer because – not having one too is completely fine – but with a full house the fridge tends to be too small for all of us. Also, the bathroom could have been nicer, I just wish I could have a bath instead of just a shower. And if I had to choose, I would probably like a sofa in the living room. We don't have one, rather, we have armchairs – which are okay – but a sofa would be really nice.
What do you like to do that's available near your place?
I like charity shopping. The recent one that I like the most, for clothes specifically, is the Oxfam charity shop but they do more than clothes and they are environmentally friendly. And they also sell a lot of other stuff that is brand new but are also made in an ethical way. That one is probably the charity shop that sells the most variety of things.
Ana's advice for living off-campus:
Pay attention to things that may not seem obvious at the moment but might become a problem after a term passes or so. For example, if you really like having a bath but you don't have one in the house, you're going to have to think about it for a whole year. Or if you don't have a garden or a backyard. At the moment, in first glance, the house might seem really nice but if you have to live there for a whole year, would there be anything you'll have an issue with? Think about storage space – all these kinds of things are to do with living off-campus. Obviously, all houses will be different but it might just be the smaller differences that makes all the difference.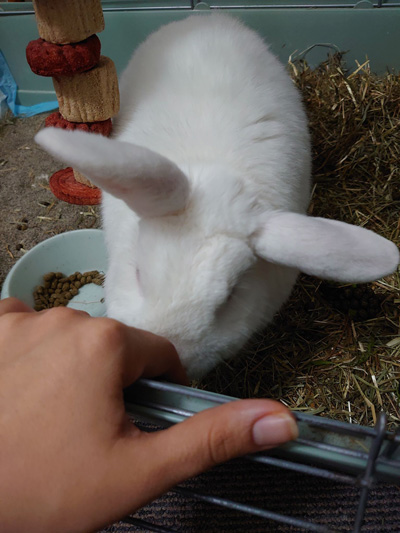 Ifa's flat at the Millrace
What it means to go private renting in the city.
Tell me about your flat and what you were looking for in your accommodation.
I live in a flat in town. I live here with my partner who I moved to uni with. In the first year we lived in a uni studio flat and second year we decided that instead of renting a student house, we would go private rented instead. The main reason for this was because we wanted our own space and we would have had to pay the same amount to share a house. Instead, we preferred to get our own space as this gave us more privacy and flexibility. We also got to choose a flat which was better than most student accommodation we had seen. We were aware that if we went with this option we would have to rent 12 months rather than the uni terms but since we now consider Lancaster our home town, we were fine with this.
We decided to live in the city because we really enjoy the community life in Lancaster. We didn't just want to be students, but we wanted to experience being residents of this city. We wanted somewhere close to town so we could access cafes and shops and also be close to the bus station so we could get to campus easily. We found a lovely flat overlooking the river, with the Priory and plenty of nature around us.
What are your favourite things about the flat?
Our current flat is modern but still cosy and homely. It's perfect for two people and allows us to have friends stay over from back home. I love that it is so close to town because both me and my partner spend most of our time in coffee shops. It's also close proximity to the river, to some really nice natural spots and Williamson Park. It's literally 2 mins away from the bus station which is amazing for commuting to campus. In terms of the actual accommodation, I like that all our amenities are modern and so we feel really at home. Our flat came fully furnished so we didn't have to spend any money furnishing it ourselves.
How about a downside?
To not live in student accommodation meant that we had to make an extra effort to socialise with people. We don't get the student experience of living in a big house with lots of flatmates. However, being so central in town means that we can visit people whenever. Also, we don't have a garden which is a huge trade off for living in a flat and I really miss being able to step out and sit in the garden.
Where can you buy furniture and house décor in Lancaster?
We bought a lot of stuff from charity shops. St John's Hospice in Skerton has amazing furniture so we picked out some bits from there. I've just picked up a lot of bits along the way and used them to decorate my house. I love framing printed art in photo frames as well. I try and look out for nice fabrics and artefacts whenever I travel anywhere so a lot of that has been used in our flat. Also, we have a lot of books and for me – that's a great way of decorating your space! I think finding a flat that was furnished to our taste and style was key as well.
I have a lot of cushions, soft fabrics and things which make me feel welcome and cosy so it feels like home. I also feel like minimising my clutter has helped me to appreciate my space a lot more. The more chaos there is in my surroundings, the more I want to get out. So, I make sure I do a spring clean every 2-3 months.
Ifa's advice for living off-campus:
If you have come to uni with a partner or are mature students, or maybe if you are 2nd or 3d years and just want to live with another person, I would recommend looking at private rented flats that aren't student houses. Often you will pay the same amount but get a better deal. Just look on websites like RightMove and Zoopla. Sometimes it's tricky to convince owners that they can rent their place to a student but if you are sensible and present yourself in the right way, many landlords will agree. Also, if you can pay 6 months in advance it helps. If you have the money saved up or can pay your parents the rent and they can provide the total amount then it's a really good option as well.
Just remember that you'll have to sign a contract that will run through your holidays so if you're not keen on staying in Lancaster through the holidays, this might not be the best option but it's definitely worth looking into. I also think living in town amongst residents rather than in student areas is an experience in itself. Specially if you're considering continuing living in Lancaster post-uni.