Bereavement During The Covid-19 Global Epidemic
It is sadly possible that you or one of your colleagues may suffer bereavement and loss during this global epidemic, which has brought new constraints and restrictions that have an impact on how we can grieve, whether the cause of our loss is Covid-19 related or not. It can be very difficult to find the words to express yourself if you are grieving, or to support someone who is. Please see the personal message from Professor Dame Sue Black, Pro-Vice-Chancellor (Engagement) below and details of support. You can also see more information on the Staff Intranet Bereavement page, which includes links to further information and pages to help us remember those members of the Lancaster Community who have died.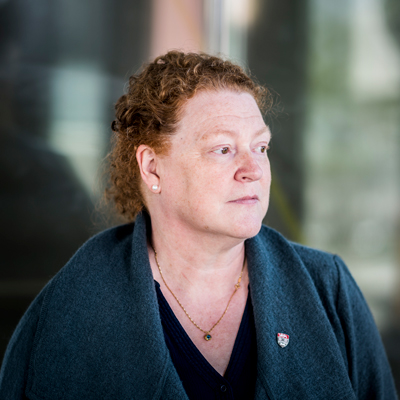 Message from Professor Dame Sue Black, Pro-Vice-Chancellor (Engagement)
"This is the time of the heart.
"We can never truly prepare for the shock of losing someone we knew, whether an acquaintance, a colleague, a friend or family. At a time when perhaps we cannot be with those we love, when they may die alone, funerals are challenging and our final words of love may remain unspoken, we will all search for the strength to help us through dark days of guilt and grief. Few will remain unaffected by the ravages of the current crisis and so we might look to our own heart and those of others for the courage and comfort we will all need to persevere.
"The truth is that grief should hurt because it is a measure of how much the person we have lost really mattered to us. But when we genuinely hold those we care about in our heart, we never truly lose them. There is no comfort in soft words spoken at a safe distance but there is healing when we open our raw hearts to talk about those we loved and lost, when we choose to laugh at what they thought funny, when we sing their favourite tunes or repeat their favourite sayings. Tears and pain eventually transform into laughter and acceptance, by keeping them alive in our heart.
"These are difficult days that none thought, or chose, to experience, but we can take great comfort and reassurance in the limitless kindness, understanding, compassion and friendship in our community. Even in the midst of our own personal grief, we will find the courage to open our own hearts so that we can heal together."
Professor Dame Sue Black Pro-Vice-Chancellor (Engagement)
Accessing Support
If you do suffer bereavement, please inform your line manager- there is specialist guidance for line managers to help them support you at this time. University staff can find practical information in the new Death and Bereavement section on the Covid-19 Staff FAQs on our intranet, and also contact the University's Spiritual Care coordinator for guidance for those of any faith or none.
Outside the University community, staff can access immediate emotional support over the phone 24/7 from the Employee Assistance Programme (EAP), information on loss and bereavement in the Homelife section of the online element of the EAP, the Wellbeing Portal, and/or you may find the resources of specialist bereavement charities helpful:
Sudden
Sudden is a charitable initiative for suddenly bereaved people and the people caring for them, and has a specialist helpline 0800 121 6510 or talk to Sudden by email at Monday to Wednesday between 10am and 2pm.
Cruse Bereavement Care
Cruse offers support, advice and information to children, young people and adults when someone dies. The Cruse website has articles on grief and bereavement, including tips on how you can help yourself and others. The Cruse helpline number is 0808 808 1677​, open Monday 9.30-5pm, Tuesday-Thursday 9.30-8pm, Friday 9.30-5pm (excluding bank holidays). You can also email Cruse.
Five Ways to Wellbeing
You may also want to look at the Five Ways to Wellbeing pages for wellbeing information and activities also at this time: