Overview
Top reasons to study with us
8

8th for student satisfaction

The Complete University Guide (2024)

9

9th for graduate prospects

The Times and Sunday Times Good University Guide (2023)

9

9th for Chemistry

The Guardian University Guide (2024)
Chemical Engineers pioneer materials and technologies of the future; they design and develop the processes behind today's most useful products. In studying this programme, you will further develop your knowledge in chemistry and engineering, and develop the skills for a rewarding career.
Chemical Engineers do not work in isolation and modern engineering is just as much about effective teamwork and communication, as it is the underlying science. As a result, our accredited Chemical Engineering programme recognises the broad field of the subject by starting with a general first year, which is shared among all engineering subjects at Lancaster.
You will explore core themes of design, materials, thermodynamics and heat transfer, along with appropriate mathematical study in the first year. Alongside these, you will develop your design, problem-solving, management and leadership skills.
Following the first year, where you will have developed a solid foundation of engineering knowledge and begun to explore a variety of different areas of the discipline, you will have the opportunity to consider and plan your academic progression. At this stage, you may choose to begin your Chemical Engineering study, or move onto any of our other specialist programmes.
In the second year, you will begin to encounter specialist modules in chemical engineering, and you will continue to develop your core skills as an engineer. This year, you will also be encouraged to engage with and solve increasingly open-ended, real-world problems. Alongside the technical modules, you will develop your creativity, entrepreneurial and analytical skills, improving your employability.
In your third year your will study at one of our overseas partner universities building your global outlook and connectivity.
A key element of your final year is the group design project, where you will be asked to solve an open-ended design project over the course of the year. The projects typically involve conceptual design, as well as evaluation of economic, safety, legislative and ethical standards of assessment. Alongside this, you will practise and develop project management, team-working and technical writing skills.
All of your teaching is delivered by world-class academics and shaped by their outstanding research output. You will gain hands-on experience with access to cutting-edge facilities and an array of high-quality equipment in our state-of-the-art Engineering Building.
Lancaster University will make reasonable endeavours to place students at an approved overseas partner university that offers appropriate modules which contribute credit to your Lancaster degree. Occasionally places overseas may not be available for all students who want to study abroad or the place at the partner university may be withdrawn if core modules are unavailable. If you are not offered a place to study overseas, you will be able to transfer to the equivalent standard degree scheme and would complete your studies at Lancaster.
Lancaster University cannot accept responsibility for any financial aspects of the year or term abroad.
Course accreditation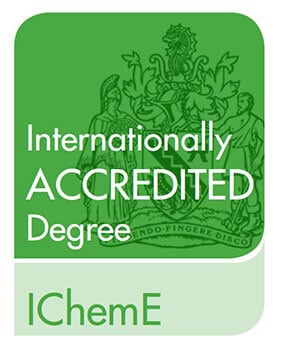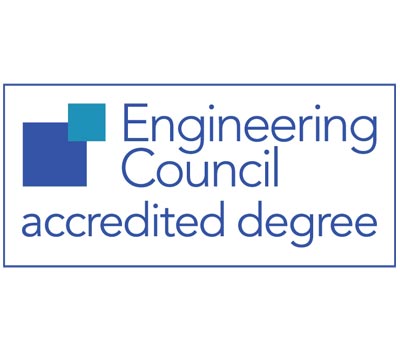 Careers
Chemical engineering is an innovative and interdisciplinary subject area, combining techniques and processes used across the STEM field in order to evolve the world around us. Chemical engineers are therefore in high demand across a huge range of sectors – and our graduates have gone on to pursue careers in energy, oil and gas, manufacturing and much more. Some have even gone on to pursue further study and embark on a career within academia, working at the forefront of scientific research and discovery. The highly-transferable skills you will acquire will make you a desirable employee in many fields – even those beyond traditional engineering career destinations. Graduates from our Engineering degrees are well-paid too, with a median starting salary of £27,250 (HESA Graduate Outcomes Survey 2022).
Here are just some of the roles that our BEng and MEng Chemical Engineering students have progressed into upon graduating:
Engineering Consultant – Ernst & Young
Wind Analyst – SSE Renewables
HDD Design Engineer – O'Connor Utilities Ltd
Graduate Chemical Engineer – Reckitt Benckiser Group PLC
Submarine Engineer – Royal Navy
Data Engineer – Cabinet Office
Graduate Engineer – Engineering Analysis Services Specialists
PhD Candidate – Lancaster University
Project Engineer – Hydraulic Analysis Ltd
Safety and Reliability Engineering Consultant – AFRY UK
MPhil Advanced Chemical Engineering – University of Cambridge
Operations and Management – Network Rail
PhD Candidate – Newcastle University
Lancaster University is dedicated to ensuring you not only gain a highly reputable degree, you also graduate with the relevant life and work based skills. We are unique in that every student is eligible to participate in The Lancaster Award which offers you the opportunity to complete key activities such as work experience, employability/career development, campus community and social development. Visit our Employability section for full details.
Entry Requirements
Grade Requirements
A Level ABB
Required Subjects A level Mathematics and a Physical Science: Chemistry, Physics or Biology
GCSE Minimum of four GCSEs at grade B or 5 with Mathematics at grade B or 6, and GCSE English Language at grade C or 4. GCSE Chemistry at grade B or 6 required with A level Physics or Biology.
IELTS 6.5 overall with at least 5.5 in each component. For other English language qualifications we accept, please see our English language requirements webpages.
Other Qualifications
International Baccalaureate 32 points overall with 16 points from the best 3 Higher Level subjects including either:
Mathematics HL grade 6 (either pathway) plus grade 6 in a HL Physical Science
Mathematics HL grade 6 (either pathway) plus grade 6 in two SL Physical Sciences
Mathematics SL grade 7 (Analysis and Approaches) plus HL grade 6 in a Physical Science
Acceptable physical science subjects include Physics, Chemistry, and Biology. Other physical sciences at HL may be considered. GCSE Chemistry at grade B or 6 required with a HL in Physics or Biology.
BTEC Considered alongside A level Chemistry
We welcome applications from students with a range of alternative UK and international qualifications, including combinations of qualifications. Further guidance on admission to the University, including other qualifications that we accept, frequently asked questions and information on applying, can be found on our general admissions webpages.
Contact Admissions Team + 44 (0) 1524 592028 or via ugadmissions@lancaster.ac.uk
Course Structure
Lancaster University offers a range of programmes, some of which follow a structured study programme, and some which offer the chance for you to devise a more flexible programme to complement your main specialism.
Information contained on the website with respect to modules is correct at the time of publication, and the University will make every reasonable effort to offer modules as advertised. In some cases changes may be necessary and may result in some combinations being unavailable, for example as a result of student feedback, timetabling, Professional Statutory and Regulatory Bodies' (PSRB) requirements, staff changes and new research. Not all optional modules are available every year.
Fees and Funding
Our annual tuition fee is set for a 12-month session, starting in the October of your year of study.
Our Undergraduate Tuition Fees for 2024/25 are:
| UK | International |
| --- | --- |
| £9,250 | £28,675 |
Additional costs

Additional costs for this course

It will be necessary for students to purchase clothing for use in laboratories which is approximately £30. The University pays for student membership of the Institute of Engineering and Technology where appropriate plus contributes to specialist software and workshop materials.

There may be extra costs related to your course for items such as books, stationery, printing, photocopying, binding and general subsistence on trips and visits. Following graduation, you may need to pay a subscription to a professional body for some chosen careers.

Specific additional costs for studying at Lancaster are listed below.

College fees

Lancaster is proud to be one of only a handful of UK universities to have a collegiate system. Every student belongs to a college, and all students pay a small college membership fee which supports the running of college events and activities.

For students starting in 2022 and 2023, the fee is £40 for undergraduates and research students and £15 for students on one-year courses. Fees for students starting in 2024 have not yet been set.

Computer equipment and internet access

To support your studies, you will also require access to a computer, along with reliable internet access. You will be able to access a range of software and services from a Windows, Mac, Chromebook or Linux device. For certain degree programmes, you may need a specific device, or we may provide you with a laptop and appropriate software - details of which will be available on relevant programme pages. A dedicated IT support helpdesk is available in the event of any problems.

The University provides limited financial support to assist students who do not have the required IT equipment or broadband support in place.

Study abroad courses

In addition to travel and accommodation costs, while you are studying abroad, you will need to have a passport and, depending on the country, there may be other costs such as travel documents (e.g. VISA or work permit) and any tests and vaccines that are required at the time of travel. Some countries may require proof of funds.

Placement and industry year courses

In addition to possible commuting costs during your placement, you may need to buy clothing that is suitable for your workplace and you may have accommodation costs. Depending on the employer and your job, you may have other costs such as copies of personal documents required by your employer for example.
Scholarships and Bursaries
Details of our scholarships and bursaries for 2024-entry study are not yet available, but you can use our opportunities for 2023-entry applicants as guidance.
Check our current list of scholarships and bursaries.
Undergraduate open days 2023
Our autumn open days give you Lancaster University in a day. Visit campus and put yourself in the picture.
Undergraduate Open Days
A tour of the Campus
Join Meenal and Vlad as they take you on a tour of the Lancaster University campus. Discover the learning facilities, accommodation, sports facilities, welfare, cafes, bars, parkland and more.
Undergraduate Open Days
Important information
The information on this site relates primarily to 2024/2025 entry to the University and every effort has been taken to ensure the information is correct at the time of publication.
The University will use all reasonable effort to deliver the courses as described, but the University reserves the right to make changes to advertised courses. In exceptional circumstances that are beyond the University's reasonable control (Force Majeure Events), we may need to amend the programmes and provision advertised. In this event, the University will take reasonable steps to minimise the disruption to your studies. If a course is withdrawn or if there are any fundamental changes to your course, we will give you reasonable notice and you will be entitled to request that you are considered for an alternative course or withdraw your application. You are advised to revisit our website for up-to-date course information before you submit your application.
More information on limits to the University's liability can be found in our legal information.
Our Students' Charter
We believe in the importance of a strong and productive partnership between our students and staff. In order to ensure your time at Lancaster is a positive experience we have worked with the Students' Union to articulate this relationship and the standards to which the University and its students aspire. View our Charter and other policies.