For the latest information on how COVID-19 is affecting travel to and from the University please see the COVID Local Travel Advice page.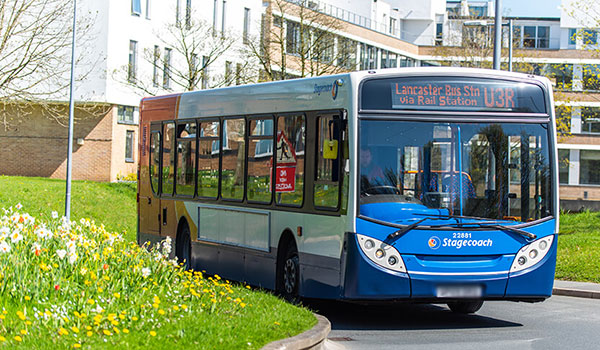 Bus passes for students
The Lancaster Unirider bus pass provides unlimited bus travel on all Stagecoach services in the Bay Megarider Zone. Students can apply for a Unirider at the Students' Union Welcome Desk in Bowland College. There is an exclusive discount for Purple Card holders too.
Uniriders are available for individual terms or you can save money by purchasing a 2-Term or 3-Term Unirider. Annual Uniriders are also available.
Anybody travelling outside the Lancaster area on Stagecoach services can find information on the Unirider Gold bus pass on the Stagecoach website.
Brand new buses
At least 14 buses service our campus every hour during term-time so it's no surprise they need replacing every once in a while. In August 2019, 14 of the Stagecoach double deckers were replaced with brand new ones. The new buses have lower emissions and the latest equipment and technologies. This includes contactless payment and next stop announcements on board.
Always Improving
With 10,000 bus passenger journeys using the Underpass bus stop each day, we have recently expanded the platform in the Underpass to make more space as staff and student numbers increase.