For the latest information on how COVID-19 is affecting travel to and from the University please see the COVID Local Travel Advice page.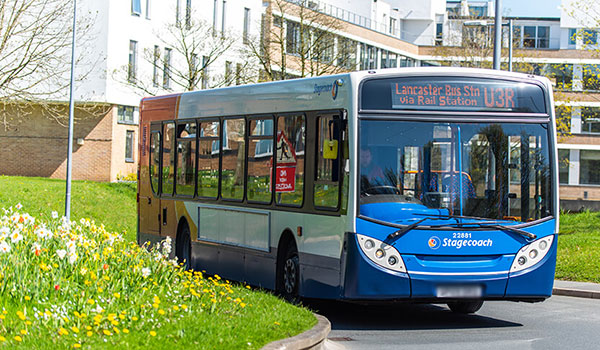 Getting the best deal
The Lancaster Unirider pass provides unlimited bus travel on all Stagecoach services in the Bay Megarider Zone. Students can buy a Unirider on the Stagecoach website. Bus passes will not be available from the Students' Union this year due to COVID-19.
Uniriders are available termly or you can save money by purchasing a 2-Term or 3-Term Unirider. Annual Uniriders are also available.
Under 19s can buy an U19 Dayrider on the bus for £2.60. For all ages a return between campus and the city is £3.10.
As a guide, anyone using the bus three or four days per week, on average, will save money with a Unirider. It depends on age and the number of terms paid for in advance, so it is worth doing a calculation before making a decision.
It's safe to use the bus
Research suggests that the chance of Coronavirus spreading on public transport is minimal. Demand for bus travel to the University has been assessed to ensure there is enough capacity with social distancing in place. More information on bus travel during Covid-19 is available here.
Always improving
We have recently expanded the waiting platform in the Underpass to make more space for bus passengers and have created space for more buses to stop.
You can now check how busy your bus is expected to be on the updated Stagecoach Bus App.
Quieter buses
No standing. Space for your bag on the seat next to you. Fewer people queuing to board. Welcome to the new normal.
Most people arrive at and leave campus on the hour so if possible we suggest choosing buses that leave the city centre between quarter to and quarter past each hour, and those that leave the underpass around half past each hour for the most relaxing travel experience.