Welcome Week at Lancaster University
by Tom Scott
Hi, I'm Tom and I'm one of Lancaster University's digital content ambassadors. I've just finished my first year at the University studying Natural Sciences with a focus on environmental science. Like every first year, when I arrived on campus during Arrivals Weekend I was equally apprehensive and excited. In this article, I'm going to be covering a few of the things I wish I'd known before arriving at Lancaster as well as a few tips on how to have the best first week possible.
Preparing for Welcome Week
It sounds cliché, but the best piece of advice when going into your first year is to have a positive mindset. Everyone there is in the same boat and during Welcome Week everyone is extra friendly, so don't be afraid to introduce yourself to new people.
At Lancaster, there isn't a requirement for you to pre-purchase tickets to events and nights out during Welcome Week. You may see some events advertised but they might not be the official university ones that everyone else is going to. Once you've arrived you can buy a pack from your college which contains everything you'll need.
My college's pack (County College) contained a transport ticket, themed t-shirts and some college merchandise which got me access to everything that was going on through the week.
Before arriving it's a good idea to join a few Facebook groups that are relevant to you, like your College's welcome week page, the Students' Union's freshers' group and your course's new first years' page if there is one. It means that when you arrive there will already be a few friendly faces around and you'll be up to date with the latest Welcome Week information. What happens during Welcome Week?
Before Welcome Week is Arrivals Weekend; different colleges move in on different days so that campus isn't too hectic, but everyone who you're sharing accommodation with arrives at the same time. Once you're settled in a bit don't be scared to go and say hi to your new flatmates! You're probably going to get to know them very well over the next year.
If you're too shy to do it yourself then don't worry, your Welcome Week reps will appear to encourage you into socialising. Mine; Naomi and Ryan, got us all to swap social media details and helped us break the ice. Your reps will be around all week to make sure you know what's going on around campus and to help you with anything you might need. There are usually events throughout the day and in the evening, both alcoholic and non-alcoholic, so there's something for everyone to attend regardless of if you drink or not.
You also sign up for minors and optional modules during welcome week, so make sure you read up in advance what's available to you.
Cooking at university
If you've chosen self-catered accommodation it can be quite a shock to suddenly have to provide yourself with three meals a day. There's a range of supermarkets in Lancaster town centre with a free bus to Sainsbury's every Wednesday afternoon, and two smaller supermarkets on campus, SPAR and Central, if you need something in a rush.
At the start of the year I took the free bus and did my grocery shop in town, but as the term progressed I started to order food online with my flatmates and split the delivery costs. It just made life a bit easier to have our food delivered right outside our accommodation.
Getting involved with societies
One of the biggest aspects of Uni life other than your course is the societies that you join, and Lancaster has a massive pool to choose from. During Welcome Week there's the Freshers' Fair, which is essentially your chance to be harassed by over-enthusiastic society members aiming to make you join their cause. Although a bit intense, the fair is the best way to find out about everything that's on offer to you, and a good opportunity to try something new.
If you're interested in joining a sports team go to talk to them at their stand. Most of them will be running taster sessions, or trials for the more popular sports, during Welcome Week that they'll be able to give you the info about.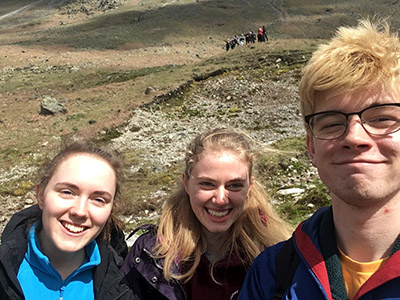 Making friends
For me, the most exciting part of university was meeting loads of new people, but like everyone, I was a little nervous at the prospect of moving to Lancaster when I didn't really know anyone there. Honestly, there was no reason for me to stress, there are so many opportunities to get to know people and make friends. You'll have the people you live with, the people on your course, and people in the same societies and sports teams as you to name a few.
I met most of my friends during Welcome Week at the various events and on nights out, but throughout the year my social circle kept growing, and I'd say it's the same for most first years. At the end of the day, everyone wants to make friends.
My final thoughts
I went into welcome week nervous for what was to come, but as soon as I arrived at Lancaster I got into the flow of things and have had a really good first year. Throw yourself into University life and make the most of it while you're here!