The campus and the city
Lancaster has so much to offer. Discover new experiences and make new memories. Meet new people from all walks of life. Find your place on our campus, in our city and in our community.
Our campus
Our campus is the complete setting for your life and your studies, with sports facilities, shops, places to relax and socialise and study spaces to suit your mood.

Maps and directions to campus.
Campus accommodation
Make your home on campus in our award-winning accommodation. Take your pick from en suite rooms, standard rooms, townhouses, studios and family flats. Whichever you choose, you'll be welcomed into one of our friendly colleges.
Accommodation
Picture yourself in our campus accommodation
Digital Content Ambassador Maria takes a look at how different students have decorated their campus rooms and made themselves a home away from home.
Making a home away from home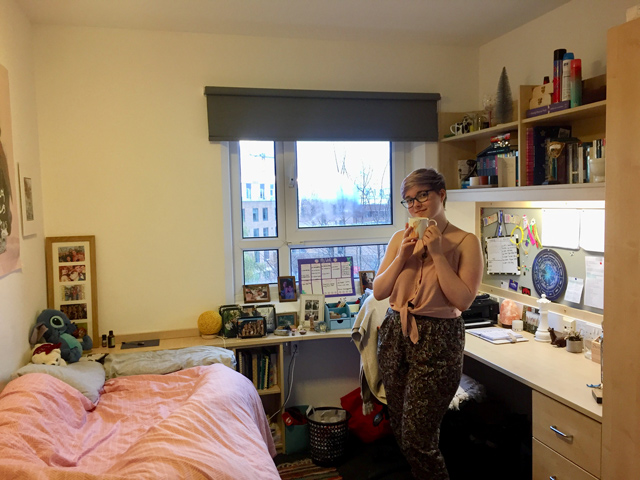 A place to study
Our campus is made for learning. Our library, in the heart of campus, has 1,300 technology-enabled workspaces and is built around a central atrium filled with natural light - home to our library's indoor tree.
As well as our library, you can head to the Learning Zone for relaxed group working spaces available 24/7, a learning lab for computers and printers, or to our woodland pods when you feel like a calm space away from it all. The city of Lancaster
Lancaster is an ancient city with a modern outlook and a great place to make your home. It's a friendly city with lots to explore and enjoy and a great base from which to explore the rest of the UK.
Find out what our city has to offer, and how you can make it your home from home.
The city and local area Tom's favourite places
Second-year Geography student and Digital Content Ambassador Tom, tells us how he has made Lancaster his home. In this blog, he describes the places on campus and in the city have become his favourites for studying and socialising, in his time at Lancaster.
My Favourite Places