The City on your Doorstep
It's a short ride from campus into the heart of historic Lancaster – a city full of character and culture.
Eating, Drinking and Nightlife
By day, a strong 'coffee culture' vibe runs throughout the city, with the Atkinson's roaster wafting its aroma onto China Street, and many cafés dotted throughout the cobbled streets. The city boasts a wonderful mix of restaurants offering a host of different cuisines, including a Japanese sushi bar, Mexican, French and Spanish restaurants to vegan eateries. Lancaster's nightlife buzzes with live music at the many pubs and wine bars within the city, situated along the banks of the canal, through the Georgian streets and even underneath the city in the castle's former wine cellars. Take a look at Digital Content Ambassador Maddy's guide to her favourite eateries or this culinary itinerary of Lancaster for some ideas on where to eat.
Our Students' Union owns and runs the famous Sugarhouse nightclub. It's the biggest nightclub in the city, it is open exclusively to students and offers free return buses to campus.
"I really enjoy the nightlife in Lancaster. There are lots of bars and pubs in the city that have live music. There's something for everyone!" Nicola Cook, Psychology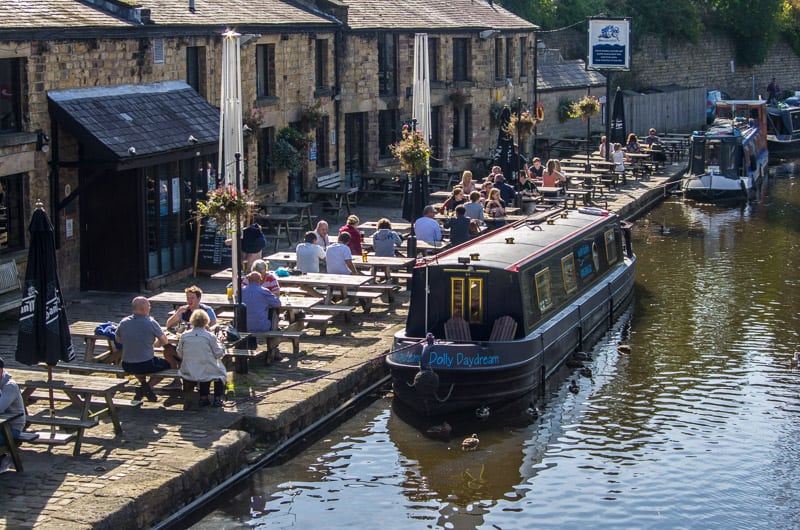 Arts and Culture
A creative and independent city, Lancaster's established arts scene constantly provides its international student population with no end of cultural activities from its annual festival of music to performances in the city's two theatres. The plethora of live music venues are home to regular guitar, electronic, folk, classical and jazz gigs. The latest listings can be found through the Lancaster what's on pages.
Throughout the year, Lancaster hosts a number of lively festivals. Lancaster Music Festival, Highest Point and the Jazz Festival are particularly anticipated, filling the streets with live music and dance.
Watch Digital Content Ambassador Chris' video from Lancaster Music Festival 2019 to get a taste of how the city comes alive.
"There is an annual music festival where the city is alive with live music of all genres in every club, pub and bar which I really enjoyed." James Mensforth, Mechanical Engineering
Other festivals such as the annual Literature Festival, Light up Lancaster light festival, and Lancaster Chinese New Year Festival make the city a fun and vibrant place to live.
Theatre and film
Fans of independent film and theatre have the choice of fantastic venues which regularly play host to major comedy and theatrical tours too. Catch an indie film or original production at The Dukes or a major tour at the Grand Theatre and of course all major box-office releases at the city's Vue Cinema
Museums and Galleries
Lancaster is home to a number of museums and galleries such as Arteria: Gallery 23, Lancaster City Museum and Lancaster Maritime Museum.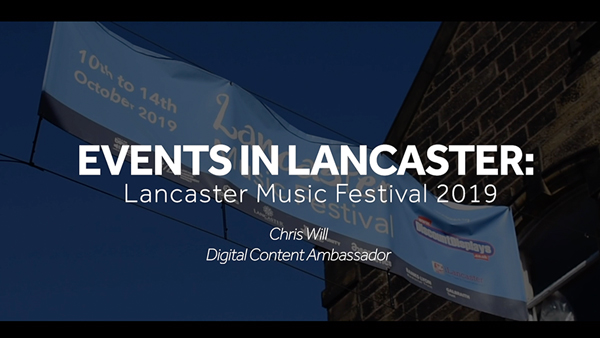 History
Small enough to explore on foot, you can follow the stories of Lancaster's rich history all the way back to the 12th Century. As one of England's Heritage Cities, there is history around every corner, from the conviction of the Lancaster Witches in 1612 to Charles Dickens' hotel room!
Castle
Dating back almost 1000 years, Lancaster Castle is still owned by Her Majesty the Queen, who is the Duke of Lancaster. As well as being a fortification, its courtrooms have witnessed many famous trials over the centuries, including those of the Lancashire Witches who were convicted and sentenced to death in 1612. Lancaster Castle is open to the public, offering visitors a chance to walk the halls of one of the best-preserved castles in Great Britain.
Market
Started in 1193, the traditional bi-weekly Charter Market fills the cobbled streets with the aromas of international and local food, offering everything from fresh produce to books and jewellery.
Pendle Witch Trail
The Trail of the Pendle Witches is about 45 miles along the lonely road the Pendle Witches took through the Ribble Valley to Lancaster Castle where they stood trial in 1612.
"I really love being surrounded by history in Lancaster. When you walk around you can feel it in the atmosphere and there is always something interesting to learn about where you are. My favourite thing to do is go up to the castle to do my course reading, there is a really nice view out across the bay and it is so much nicer than just sitting at my desk. I almost always stop at the coffee quarter on the way there too – it's a really lovely city to be in." Katie Barnes, English Literature and Spanish Studies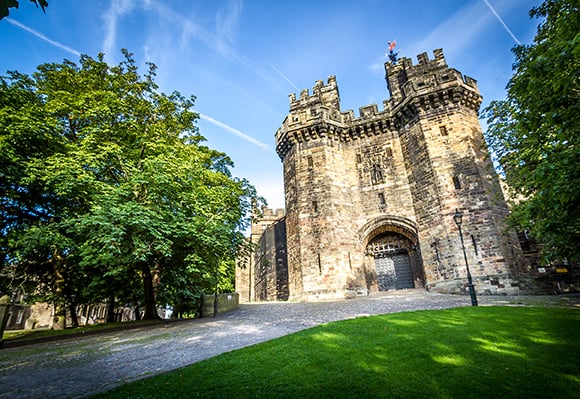 Outdoors
The City centre boasts lots of open green spaces, from canal-side walks, the River Lune footpath and several parks. Williamson Park and the impressive Ashton Memorial look over the city across to Morecambe Bay and the distant hills of the Lake District – the perfect place for a summer picnic or a study break and home to the Dukes Theatre's "Play in the Park", the UK's biggest outdoor walkabout theatre event.
"I walk around Williamson Park and Ashton Memorial nearly every week, and have also been walking along the canal, on Morecambe Bay, in Bowland, and in the Lake District. There is so much to see and so many pictures to be taken!" Lily Wearden, English Language and Creative Writing
Watch Raiza's video to discover her favourite places in the city.
Shopping
The city has a great shopping scene, with many independent shops and boutiques nestled alongside stores from many major retailers. Our traditional high street is also home to the bi-weekly Charter Market – a selection of 40 stalls offering everything from fresh produce and delicious dishes from around the world to books and gifts. With Preston and Manchester just a train ride away, you'll never be short of places to shop!
"Lancaster is such a nice city with a massive variety of things to do - and the amenities and life in the city have been a big part of my University life" Michael Mander, Linguistics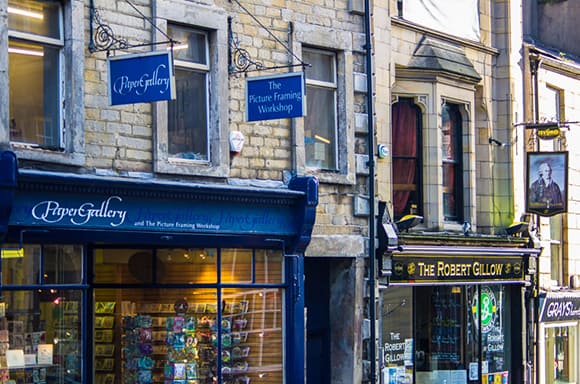 Lancaster - City, Hub and Heartland
Lancaster is an ancient city with a modern outlook. Our new story reflects where we have come from, but more importantly where and how Lancaster can grow and develop in the future.
Lancaster's story