Celebrating Christmas at Lancaster
by Catherine Brabin
There's loads to do in and around Lancaster during the festive season, and this year I've taken on the burden of trying it all out so that you don't have to! If you want to know how to do Christmas in Lancaster right this year, then stick around, because I have all the insider information.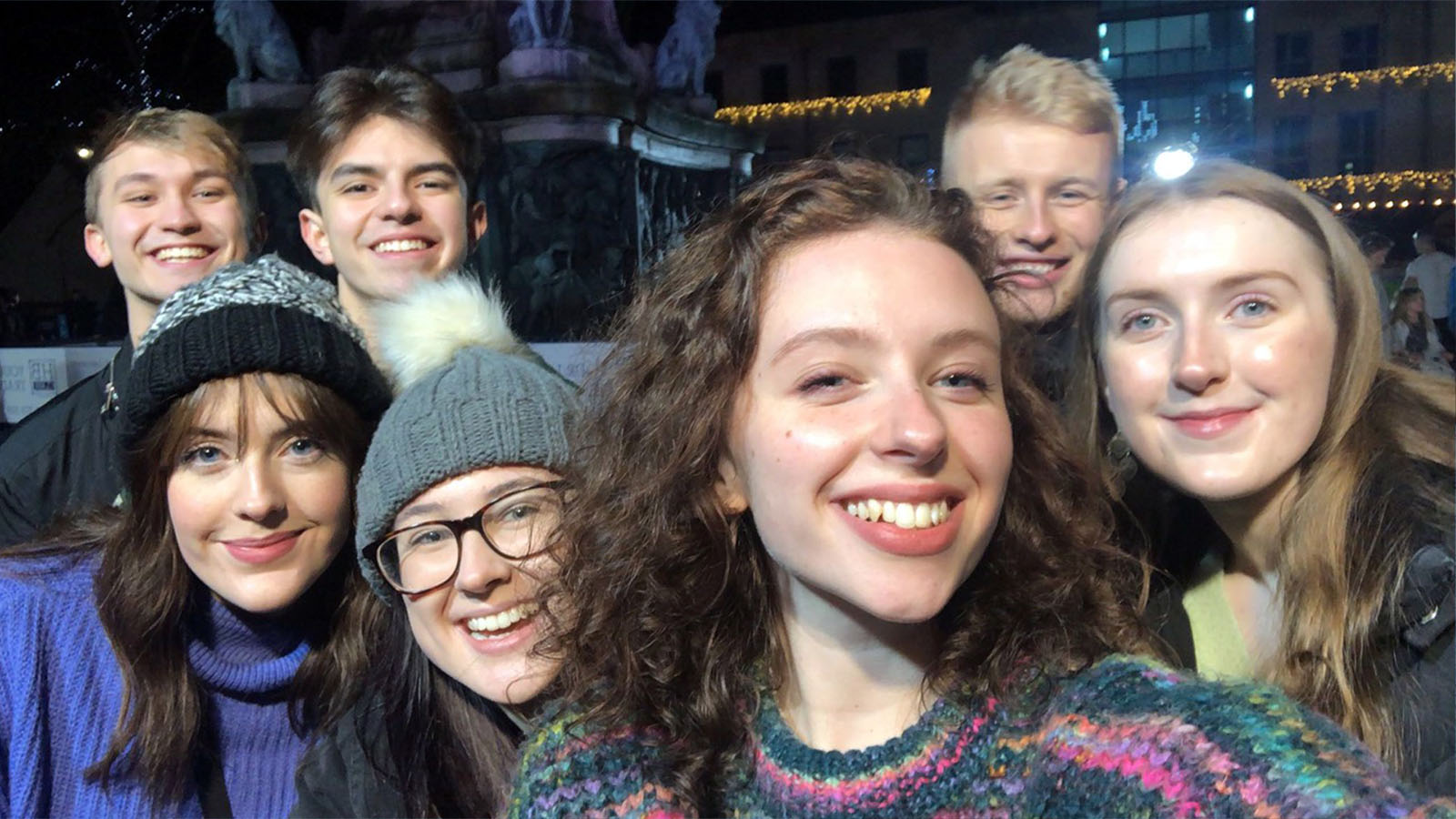 Lancaster On Ice has been a yearly occurrence since 2018, and it's the perfect way to get into the Christmas spirit. Taking place at Dalton Square in the heart of Lancaster, the event includes an 800m real ice Ice-Rink that surrounds the iconic Queen Victoria statue, a glowing Ferris Wheel, Christmas Market, and a giant Tipi Bar.
It cost me £14 for an hour on the rink, which I must add, is open-air (!) and I loved skating around with my friends, taking pictures and laughing at everyone's dodgy moves. The rink is also wheelchair accessible and there was plenty of staff on hand should you need them, so I couldn't recommend it more!
The markets sold all the classics – waffles, crêpes, Bailey's hot chocolate, a roast in a Yorkshire Pudding… the works! The stalls take cards, but it is slightly easier to pay cash as it saves you queuing. You can also buy marshmallows and head into a giant tepee to roast them over the fire, something which I didn't get the chance to do but which looked incredibly cosy.
Lancaster University also held their own Christmas markets on campus this year, with tents on Alexandra Square becoming host to all sorts of goodies! When I visited, I spotted hand-crafted perfume and jewellery, festive doughnuts, vegan cookies, and specialist hampers that would make perfect gifts.
Hopefully, the campus markets will become a yearly event, as I would definitely go back!
Where to have your Christmas meal?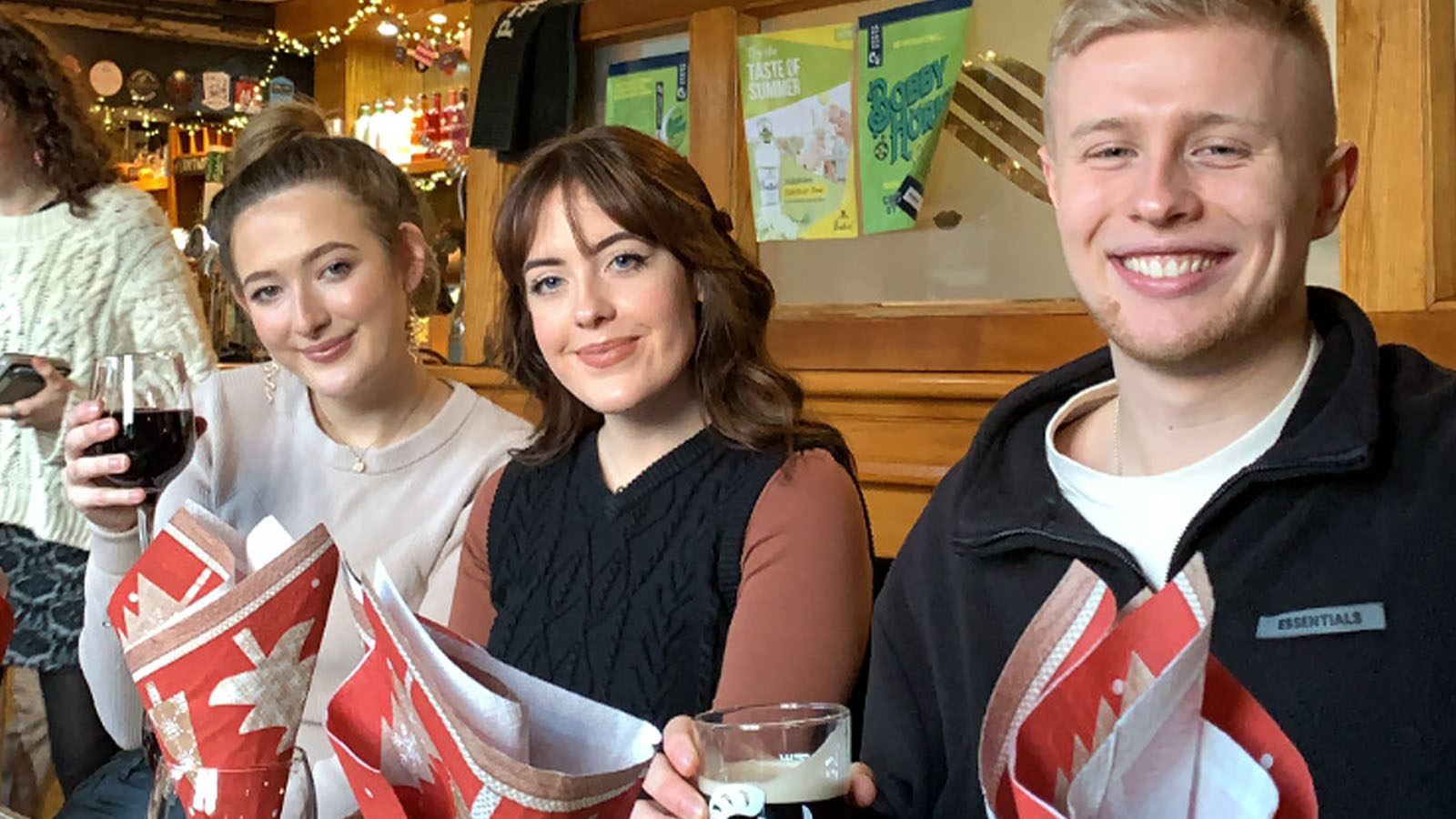 Going out (or staying in) for a festive roast dinner is the classic way to celebrate Christmas, and as I have had a fair few in Lancaster both this year and last year, I think I'm fully qualified to give you some recommendations!
Last year my housemates and I decided to tackle making our own Christmas dinner, which I wrote about in much more detail in this blog here: X. While it was a roaring success – if I do say so myself – this year, we wanted to take the pressure off and go out instead.
The Water Witch offers a two-course meal for £23, so we were free to sit back, relax and enjoy a view of the canal without the stress of cooking!
We also exchanged Secret Santa presents at the meal, which is a lovely way to round off the year. We'd set a budget of £10 each (you and your friendship group can alter this to a figure which best suits you) and I loved the challenge of choosing items that would really mean something to the person I was buying for.
There are loads of lovely places to eat in Lancaster – the White Cross, Greaves Park and The Borough are a few other local pubs that I would recommend if you're looking to book a last-minute meal!
If you're cooking, however, Aldi is the perfect place to go for your Christmas deals, and there are loads of little festive finds in there that will make any meal magical.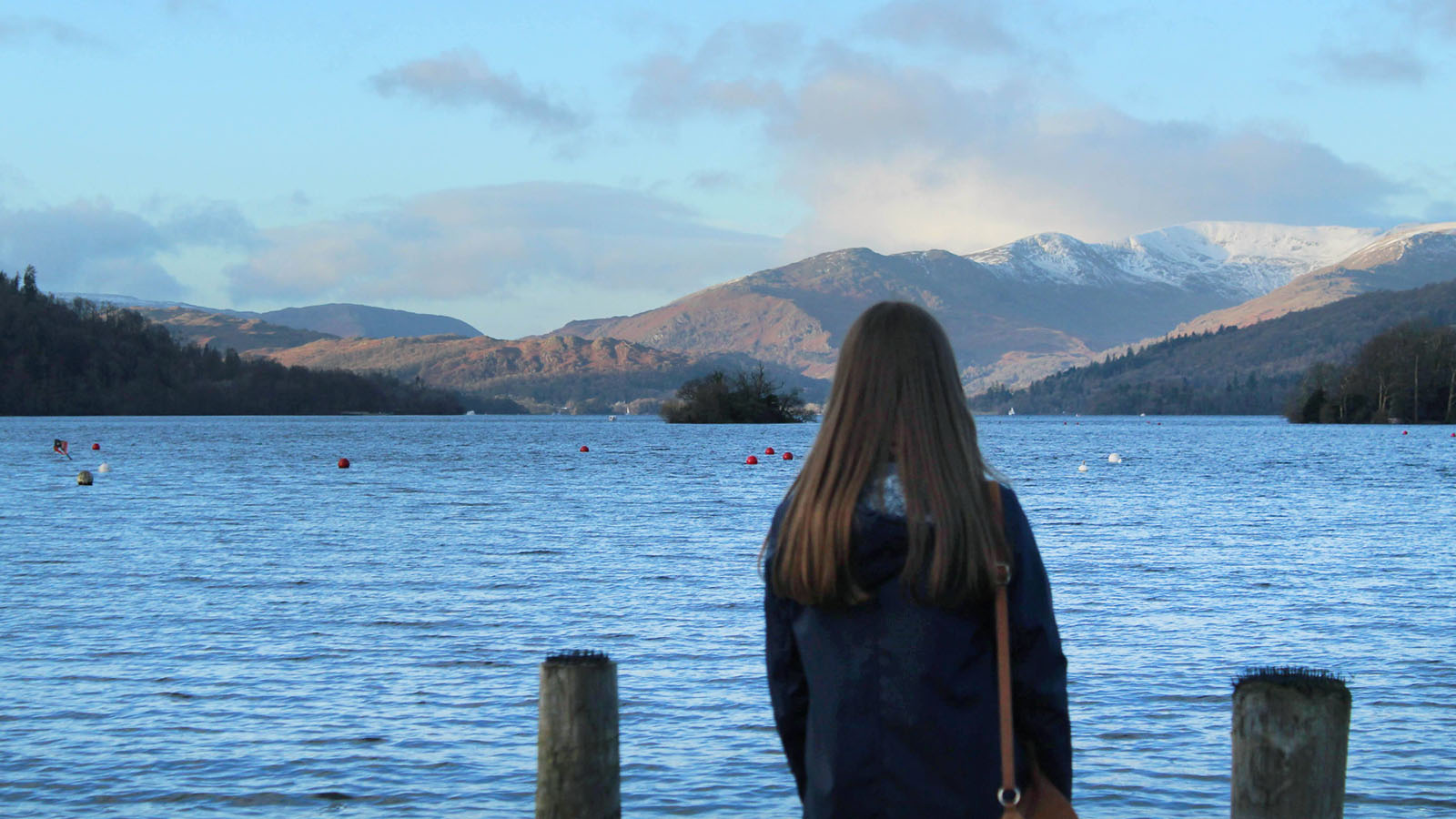 With views of the snow-capped peaks, winding cobbled streets, and quaint little tea shops to enjoy a mulled drink of your choice, there is no better time than Christmas to visit the Lake District!
As Windemere is only a stone's throw away from Lancaster, I decided to pop my tourist hat on and set out with a friend to do some exploring. For a return ticket from Lancaster station direct to Windemere, I paid £13.90, and the journey was a leisurely 50 minutes – plenty of time to have a chat and a snack without getting bored!
Directly outside Windemere station is a bus stop where you can catch the 599 to Bowness Pier, an open-top ride through the town which got us to the lake in 10 minutes and gave us information about the history of Windemere on the way!
The view of the lake and the peaks on the horizon on this crisp December afternoon were fantastic, and we went on a lovely stroll to capture every angle. There are also plenty of souvenir stalls where you can grab a postcard to remember the trip for less than 50p, so we obviously had to go a bit overboard and filled our boots.
Afterwards, we were ravenous, so we headed five minutes into town and enjoyed a lovely vegan meal at a local café called The Magic Roundabout – I highly recommend if you fancy a mulled cider!
As it got darker, we had a gander at the Christmas decorations illuminating the streets, and all the local businesses that caught our interest before heading back to the station. The journey home was as easy as the outbound one, but I would advise keeping an eye on the bus times because I found that the last bus for the day set off at a surprisingly early 18:15.
Final words
I've been so impressed with the amount of fun and festivity I've had in and around Lancaster this December! If you're a student, planning on studying here, or are just coming to visit, definitely check out the activities I've mentioned as I've thoroughly enjoyed every one of them. Still, no matter what you're plans are this Christmas, please stay safe, get some much-needed rest, and have a fantastic time. I can't wait to see you in the New Year for lots more content!
Season's Greetings 😊