Starting studying at Lancaster
by Catherine Brabin
Starting university can be a daunting time, and as a first year, I can remember having a lot of questions about life and studying at Lancaster. In this article, I'm going to be answering the most popular of these questions to help you find out everything you want to know and decide if Lancaster is the place for you!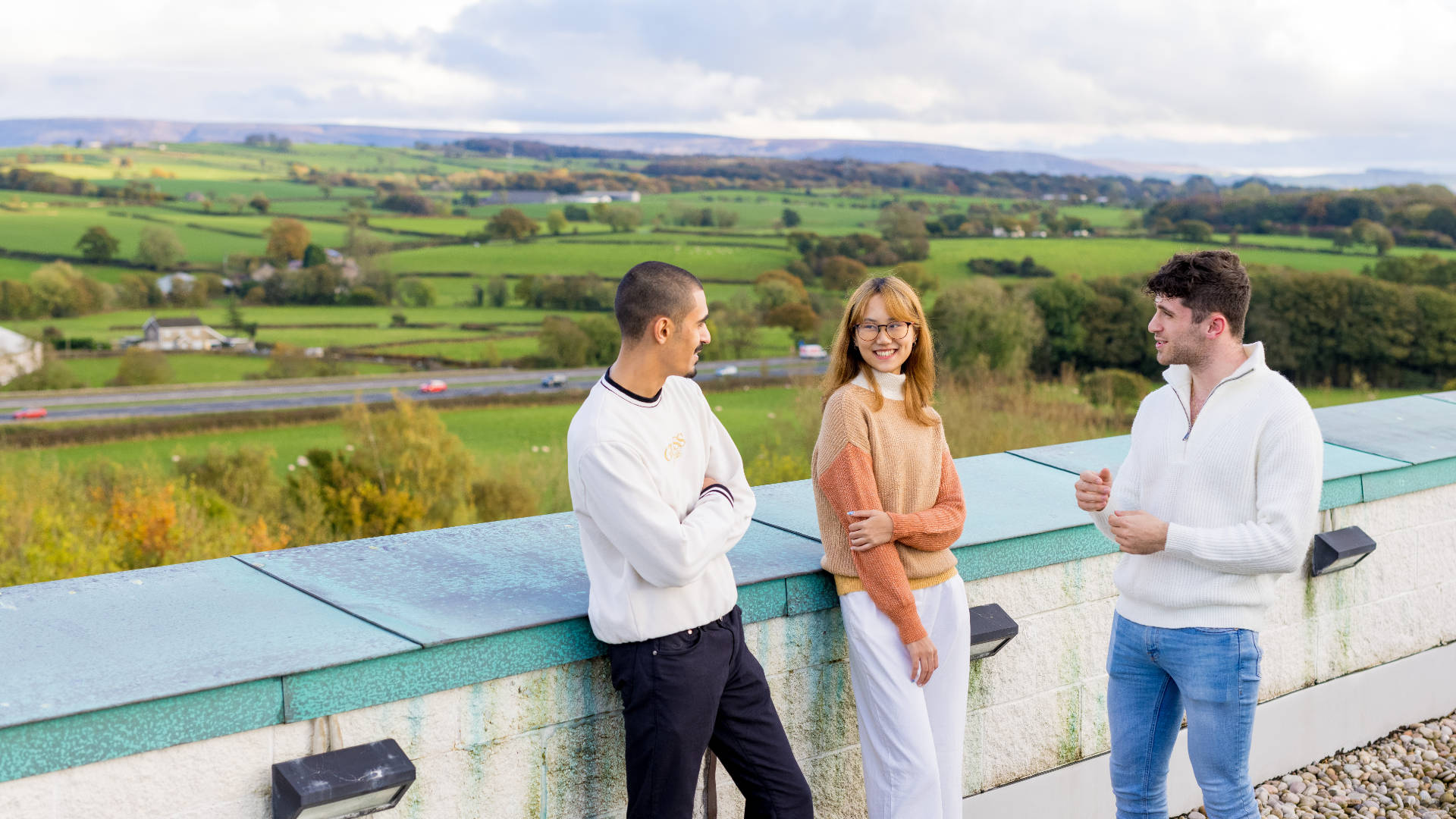 Lancaster is in the North West of England. It's a relatively small city which provides a great mix of urban and country life. The city centre is 20 minutes away from campus on the bus, but Lancaster itself is surrounded by nature. For example, Morecambe beach is 5 miles away, while the Lake District is 20.
How does student accommodation work?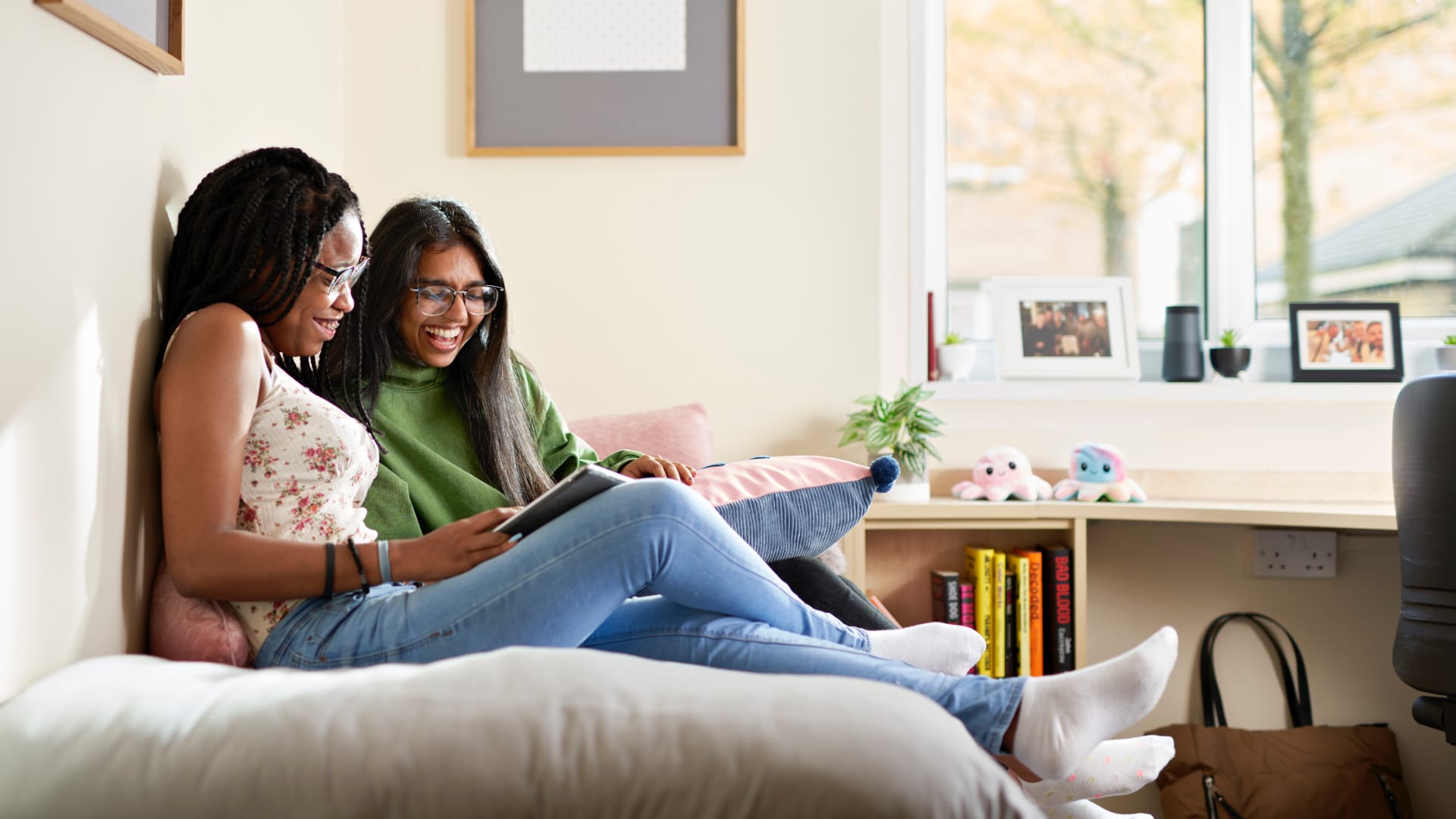 In your first year at Lancaster, it's typical that you will live on campus. There are several different accommodation types. These range from townhouses, shared by 12 people with communal bathrooms, kitchen and living areas, to en-suite flats where 6-8 people share the kitchen facilities. There are loads of options, so here's a link to the accommodation website where you can find a detailed breakdown of each accommodation type, their facilities, and their prices.
If you're a student who requires specific adaptations to your accommodation, inform the accommodation team as soon as possible. The team are very helpful and strives to make your accommodation as accessible as possible. For example, larger rooms, bathrooms with grip rails, and different lighting arrangements are just a few of the adaptations available.
In the second and third years, it is typical that you will live in town, sharing a house with some of the friends you make in the first year! It's important to note that you CAN live on campus for more than just your first year. Priority is given to the third years and students with disabilities or other needs which means living on campus is best for them. However, you can still apply to live on campus in your second year.
Here's Alix's blog all about accommodation options for your second year.
Lancaster has pretty much everything you would need on campus, although I would recommend going into town to shop and sightseeing as well.
Alexandra Square is the uni's hub, as this connects the north and south spine. The square has WHSmiths, Greggs, Costa, cash machines and the library which is open 24/7.
There are so many places to get food, such as Spar and Central which are the main grocery stores on campus. There are also so many other places to eat, with Sultans being the favourite after a night out, and restaurants like Subway, Pizzetta and Go Burrito are also popular choices.
You can also register with the health clinic on campus, or head to the pharmacy if you need to.
For those of you who join a sports society or simply want to keep fit, Lancaster's sports centre has every facility that you would need, including a swimming pool and gym with different membership offers.
How many contact hours will I have per week?
Contact hours vary depending on your degree subject. As a Theatre and English Literature student, I've had 5 hours of lectures and 5 hours of seminars per week in my first year. Lectures are attended by everyone on the course and involve listening to the lecturer and writing notes, while seminars involve smaller groups and much more discussion. It is also advised that you do 10 hours of independent study for every module you take. What with extra reading, writing up notes and other assignments, those 10 hours are easy to fill!
From listening to my friends on other courses, sciences and engineering subjects tend to have more contact hours than humanities because lab and practical work is involved.
If you'd like a full breakdown of what I get up to on my course, here's a link to my blog on a week in the life of a theatre student.
Who do I go to for help and support?
I've found Lancaster fantastic at helping first-year students settle into university life and supporting you throughout your entire university career. I've written an entire article on the things that I've personally got involved in to make the transition from college to uni easier.
If you don't want to read the full article, here's a short summary of some of the things Lancaster offers to support students:
During Welcome Week your freshers' rep will be there to answer all of your initial questions, listen to your concerns and get you used to living on campus.
Your college is integral to building a sense of community and helping you to feel like you fit in with your other college members.
The Student Wellbeing Advisers provide weekly drop-in sessions and wellbeing events, which include crafting, baking and going on walks in nature to help you look after your mental health.
You can also attend weekly one-to-one sessions with a peer mentor. Peer mentors are older students who are there to check in on how you've been doing, offer advice and refer you for further support if you think you need it.
If you have a disability, learning difficulty, mental health condition or anything else that means you have specific academic needs, the university Disability and Inclusive Practice Service is here to listen. I have a visual impairment and could write a totally separate article on the support that I've received for this. Most importantly, the service will discuss your concerns and needs to write up an Independent Learning Support Plan (ILSP). The ILSP is personal to you and lists in detail the adaptations and support you require in class and during exams. This is sent to all of your academic tutors, so you don't have a lot of repetitive conversations or send a lot of emails explaining your situation. I've found the ILSP system great, and the Disability and Inclusive Practice Service is always there to address any further concerns that might arise throughout your university career. What's the night life like?
Lancaster is certainly quieter than bigger cities like Newcastle, Manchester and (my home) Liverpool. But don't be put off yet! Having experienced nights out in both Liverpool and Lancaster, I can genuinely say that I enjoy both equally.
The university's Student's Union runs the student night club in town, Sugar. This means you have to have a student ID to enter. Sugar often do themed nights, with circus, jungle, and indie nights being just a few! Other clubs/bars in Lancaster include Glow, Generation, Mint and Crafty's. And yes, you'll be glad to know there is a spoons. I haven't listed every club/bar here, but these seem to be the most popular from my experience and the places that my flatmates and I gravitate towards.
I've also found that the bars on campus can make a great evening out if you don't feel like going into town. Although I'm a County girl, my flatmates and I often go to Grizedale because they have different delicious 2 for 1 cocktail options each night. Baker House Farm at Cartmel and Grad bar (which looks like a traditional old-fashioned pub) are other favourites.
What societies are there?
Lancaster offers so many societies that I couldn't name them all here. So far, I've only become a member of the Ballet Society, but it's my intention to join a lot more next year!
Whether you're into sports, dance, theatre, languages, food, drink, diversity, charity… there will almost certainly be something for you. You can also create your own society if you can't find what you're looking for and you can gather enough people together to create a legitimate group.
Here's a link to the societies page on the Students' Union website if you want to have a look at all the options.
Final words
So, there are your most asked questions answered! There is plenty more information out there on life at Lancaster, which you can find through the links I've provided and on the university website. In the meantime, hopefully, you found this article useful and feel a bit more confident about whether studying at Lancaster is for you.